KUNTRY KUSTOM RV/ HOME FOR AUCTION TRAILERS AND TOPPERS
This web site is the home for auction trailers and toppers for KUNTRY KUSTOM RV HOME.  But the manufacturing home for Kuntry Kustom RV started in Shipshewana, Indiana. When founded in 2003 by industry veterans, Kuntry Kustom RV focuses on offering professional auctioneers the absolute best value in auction clerking trailers and auction truck toppers.  While, with the same original owner and founder guiding the company, Kuntry Kustom RV continues large growth in both the amount and the diversity of trailers built each year.
Along with this growth in production, the company offers an expansion in the model variety of auction trailers offered for sale.   Furthermore, the additional growth in sales allowed a move from the original production location in Shipshewana, Indiana to an upgraded and larger facility in Topeka, Indiana. Hence, Kuntry Kustom RV's new home features ample space and an expanded modern production line. Certainly, more square feet of space provides the ability to build more products.
Of course, the new home for Kuntry Kustom RV meets the specific needs of professional auctioneers.  Resulting in, KKRV offering a full production line of auction trailers and auction truck toppers in a wide range of standard and specialty trailer floor plans.
HOME FOR AUCTION TRAILERS AND TOPPERS DEVELOPMENT OF PRODUCTS
Every Kuntry Kustom RV auction trailer and auction truck topper built provides a professional, secure, and organized work area to improve an auctioneer's comfort and productivity. Along with providing a secure and safe environment for auction business transactions, a clerking trailer can be completely climate controlled.  Most importantly, the auctioneer works comfortably year-round by optioning a roof mounted air conditioning and a gas forced air heater (both thermostat controlled) on the auction cashier trailer.
Over the years, Kuntry Kustom RV has worked closely with professional auctioneers to develop and refine the product line. Additionally, Kuntry Kustom RV takes great pride in producing professional auction equipment that enhances our customer's professional image and efficiency. Finally, Kuntry Kustom RV is committed to building quality products.  By all means, auctioneers use to achieve success in their business.  See link for additional information to other specialty trailers.
NEXT STEPS…
Contact Kuntry Kustom RV home to receive more information on Auction Trailers or Auction Toppers. phone 260-593-2279 
Auction trailers are built from the small 12′ to the large 40′ goose neck trailer.   Additionally, clerking trailers have walk-up exterior cashier windows or interior walk-in cashier windows.  After that, see several standard auction trailer floor plans and available features.  In particular, auctioneers can customize their trailer by choosing from a large selection of efficiency and comfort options for their auction trailer.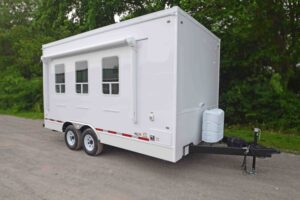 Auction truck toppers are offered with full slide in floors and flat fronts models or cab over models.  Also, auctioneers choose their window style and key features such as cab over for the truck topper.  Additionally, the truck toppers are offered with tie down options.  All in all, customers benefit and get a great value by buying their auction trailer or auction truck topper factory direct from Kuntry Kustom RV.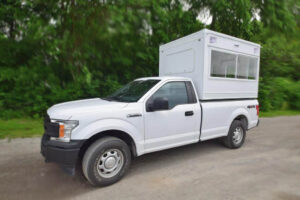 Kuntry Kustom RV designs and builds specialty trailers and offers them for sale.  For example, models include restroom trailers, shower trailers, and combo trailers with both restroom and shower facilities combined.   In addition, to auction trailers and specialty trailers, Kuntry Kustom RV builds and offers for sale a wide range of specialized goose neck and fifth wheel trailers in designer floor plans.