SPECIALTY TRAILERS
Kuntry Kustom RV builds and offers for sale commercial grade specialty trailers at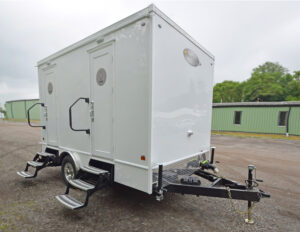 factory direct prices. Recreational vehicles are not offered for sale. However, the Kuntry Kustom factory builds all types of specialty trailers to use for business.  Along with office trailers, commercial restroom trailers are designed and built for commercial use.  Also, ticket offices are offered with folding awning covers for the windows.  In addition, to office trailers, Kuntry Kustom RV designs and builds shower trailers for use on remote sites. Whereas, shower trailers include on-board holding tanks and gas heaters.  Furthermore, the shower trailer features a model with both a shower and a toilet.  Specifically, this trailer is called a combo trailer.  Certainly, this trailer combines a shower trailer and a restroom trailer so that it has a multitude of uses.  Especially, the trailer performs at disaster relief locations or large crowd special events.
SPECIALTY TRAILERS/RESTROOM TRAILERS
The portable restroom trailer is a useful and convenient offering for your large estate auctions.   Where large crowds create a need for public restrooms, the Kuntry Kustom portable restroom trailer provides a tremendous solution.  Indeed, choose from 2 to 10 station restroom trailers built to suit your needs.  Importantly, all of these trailers include a large waste holding tank.  Also, a freshwater tank on board provides the necessary water for toilets and sinks.  Finally, this trailer offers decors in both a rugged industrial package or a luxury look decor.  To see more models, visit www.RichRestrooms.com.
SPECIAL TRAILERS/TICKET OFFICE
As can be seen, a ticket office trailer is one of the specialty trailers that is offered with an awning style window cover.   Accordingly, this style of window makes the trailer a secure mobile solution when not in use.  Additionally, this compact trailer comes standard with a private restroom and a sofa.  So, use this trailer for any large events that may require public tickets to attend.