CASHIER TRAILER PHOTOS
The cashier trailer photos give some examples of the possibilities for your new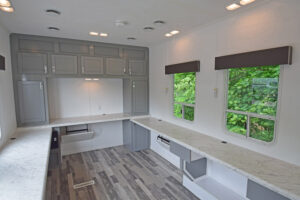 clerking trailer.   For example, the most common sized auction trailer is the sixteen- foot model.  Further, the images show the 16-foot trailer with the standard clerking windows on the curb side.  Also, clerking windows include the option to order your trailer with windows which open vertically.  Importantly, the windows include a hard valance and a miniblind.  Henceforth, the mini blind provides cover from the sunlight of the day or privacy.  After that, on the exterior of the trailer removable shelves provide a place for customers to sign documents.
Additionally, the trailer includes important items such as full-length countertops for the clerks.  Specifically, under the countertops a cash drawer offers storage of receipts and payments.  Also, each workstation includes an electrical receipt and a cat jack to connect computers or plug in office equipment.
ADDITIONAL TRAILER PHOTOS
Below includes photos of more available features.   As another example, the auction trailer photos show the standard cabinets on the hitch end of the trailer.   Thus, great for storing important auction paperwork and flyers.   Furthermore, the cabinet holds the computer network technology.  Consequently, cat jacks which connect the computers together terminate in the front cabinets behind a cabinet door.  After that, LED lighting shown in the images offers a bright workspace area.
OPTIONS SHOWN ON IMAGES
Important to realize, some features shown in photos may be optional.  Importantly, contact your product manager to confirm the features in your new trailer.  Additionally, special trailers are offered at the link includes bath trailers.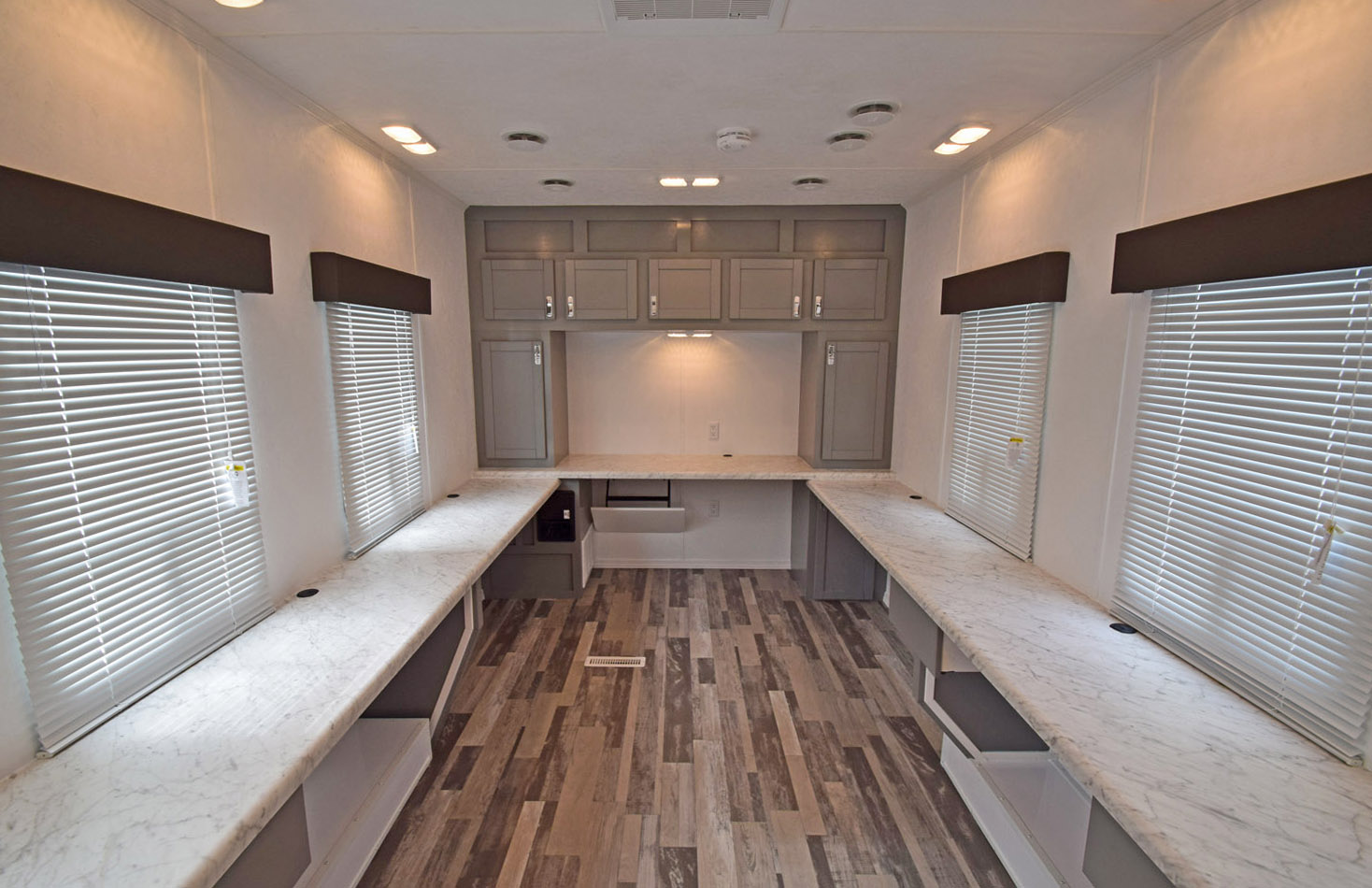 OPTIONAL CASHIER TRAILER RESTROOM PHOTOS