CASHIER TRAILER FLOOR PLANS
The standard sizes for cashier trailer floor plans include 12′, 16′, 20′ and 24′ models.  While standard sizes and floor plans amount to the majority of built trailers, every office trailer is built to a specific customer's requested features.  Importantly, cashier trailer models feature changes in both length and features in order to build the perfect office trailer for each auctioneer. In summary, the most common cashier trailer features an open floor plan. Which feature counter tops on both sides of the interior of the auction trailer. Furthermore, popular options include the walk-through floor plan to allow the auction customer to enter the trailer.  Additionally, office personnel enjoy cashier trailer floor plans with a private restroom and other amenities like air conditioning and heat (both thermostat controlled). 
CLERKING TRAILER FLOOR PLAN 16′
Above all, this clerking trailer model is the most popular with three standard cashier windows for the customer.  Another popular option for this cashier trailer floor plan showcases a private restroom. Certainly, the restroom includes a hand wash sink and storage cabinet.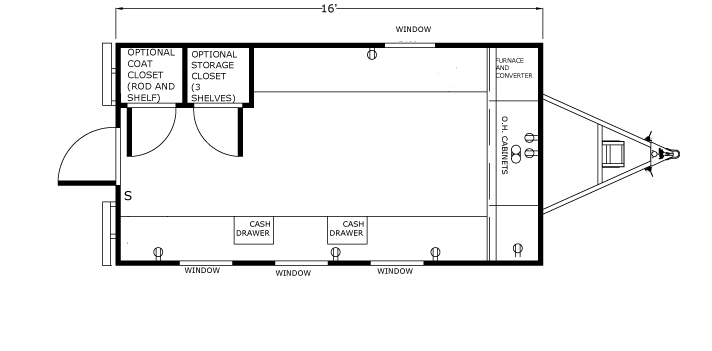 CLERKING TRAILER FLOOR PLAN 20′
The 20′ trailer floor plan features enough space to offer a front storage room for signs, tables and chairs.   In addition, the front room allows a customer walk in with a single door or a customer walk through with two entrance doors.  Also, an optioned restroom allows for a comfortable private sink and toilet.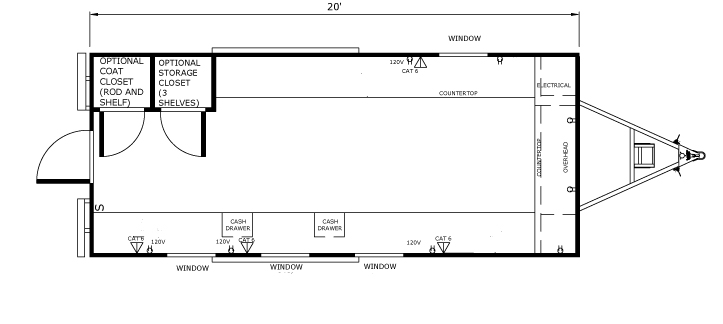 CASHIER TRAILER FLOOR PLAN 24′
When extra room is needed the 24 foot cashier trailer floor plan offers both a private restroom and a 4 ft storage room.   To be sure, floor plans maximize space.  In the same way, larger cashier trailer floor plans allow more space for storage rooms and restrooms.  By the same token, window configeration and countertops remain the same.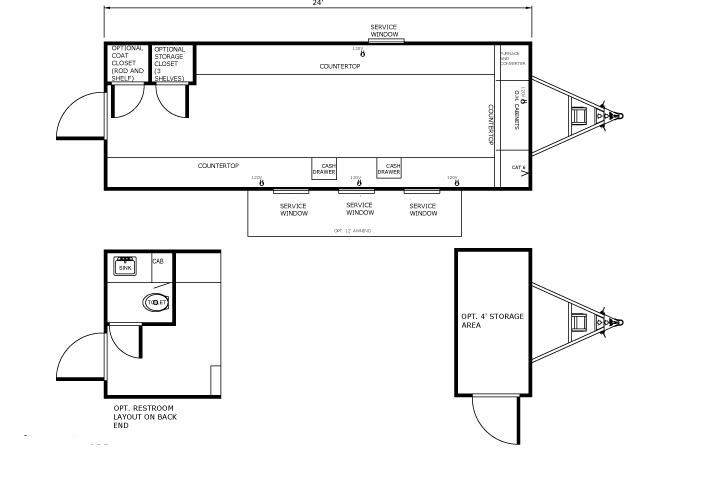 Principally, the standard clerking trailers floor plans offer clerking windows on the curb side of the trailer.   In the meantime, on the hitch end of the trailer, a set of overhead cabinets remain accessible to allow storage of clerking paperwork.  Below the overhead cabinets, a workstation functions with a cabinet at both sides of the station.   The standard cashier trailers floor plans locate the entrance on the rear. But, the rear door moves closer to the curb side of clerking trailer when the optional bathroom is included.  Along with the front cabinets, one cash drawer mounts under the side countertop between the windows.  Also, a driver side window allows for an additional light and ventilation into the auction trailer.
Important to note, cashier trailers floor plans are commonly built as a 16′ or as a 20′ length.  To be sure, a continuous and efficient full production lines allow for the cashier trailers floor plans to be built for sizes ranging from 10′ to over 30′ in length.  Finally, every trailer is built from the frame up and customized with options to meet the specific needs of the auctioneer.